Special care for special circumstances
HCA Virginia's NICUs offer care and support to families during the toughest times.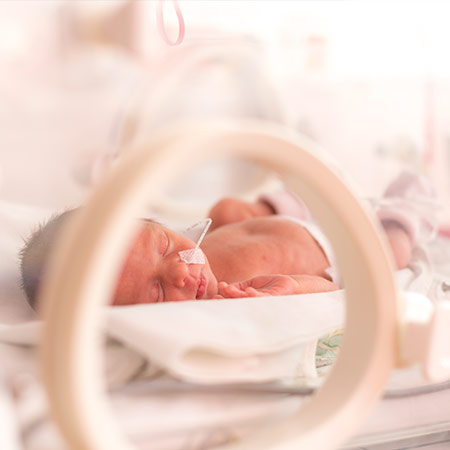 Having a baby is a special event in a woman's life and we are honored to be a part of your experience. Our team of physicians and nurses is dedicated to providing you and your baby with the best possible experience by combining the latest technology with a compassionate approach to care. For babies that are born prematurely or with complications that care may include admission into one of our Neonatal Intensive Care Units (NICU).
What is a NICU?
A NICU is a unit within the hospital with specialized equipment that is staffed by neonatologists (doctors with advanced training in caring for sick or premature newborns) who are on-call and immediately available 24/7. The team also includes neonatal nurses, respiratory therapists, occupational therapist, physical therapist, social worker/case management workers, and lactation consultants. This diverse team provides skilled care for a range of medical conditions affecting newborns.
For more information on our neonatal intensive care units (NICUs), call our free, 24/7 Consult-A-Nurse line.
HCA Virginia's NICUs
At HCA Virginia we have Level II and Level III NICUs available within our hospitals.
Level II NICU
The Level II NICU is for infants born at or after 32 weeks and who weigh more than 1,500 grams (3.3 pounds). They require an intermediate level of care following birth as a result of their prematurity. Commonly these challenges include support for feeding, temperature regulation or assistance with breathing.
A level II NICU may also be an ideal transition point to home for newborns who have graduated from Level III NICU care. Occasionally, infants who are born on or around their due date may also need supportive care in these NICUs.
Level II NICUs care includes:
Heart rate monitoring
Respiratory rate monitoring
Blood pressure and temperature monitoring
Nutrition provided through IV, tube feeding, bottle feeding or breastfeeding
Minimal respiratory support such as oxygen at a low flow
Radiant warmers, incubators and open cribs
Learn more about our Level II NICUs
Level III NICU
Level III NICU care is reserved for infants born before 32 weeks who weigh less than 1,500 grams or are critically ill. Some Level III NICU's are able to provide surgical support for a variety of needs and may have additional specialist to assist with complex diagnosis.
Learn more about our Level III NICUs
Family-centered NICU support
You are an important part of your baby's care team. Our NICUs are designed to serve as a quiet, nurturing space for families to bond and care for their baby.
To support you and your family, we offer:
Extended visitation—You can stay by your baby's side almost 24 hours a day.
An emphasis on bonding—we encourage you to spend plenty of hands-on time holding or feeding your baby and want to incorporate you in the developmental aspects of your child's care.
Visitation may be restricted, during widespread viruses such as COVID-19 to protect our patients and staff. Please check with your care team on current or future restrictions.
Hear from our NICU families
Published:
February 21, 2022
Related Categories
HCA Virginia Health System