What to expect during focused ultrasound treatment
Focused ultrasound is a treatment option for those with tremors in the arms or hand caused by essential tremor or Parkinson's disease.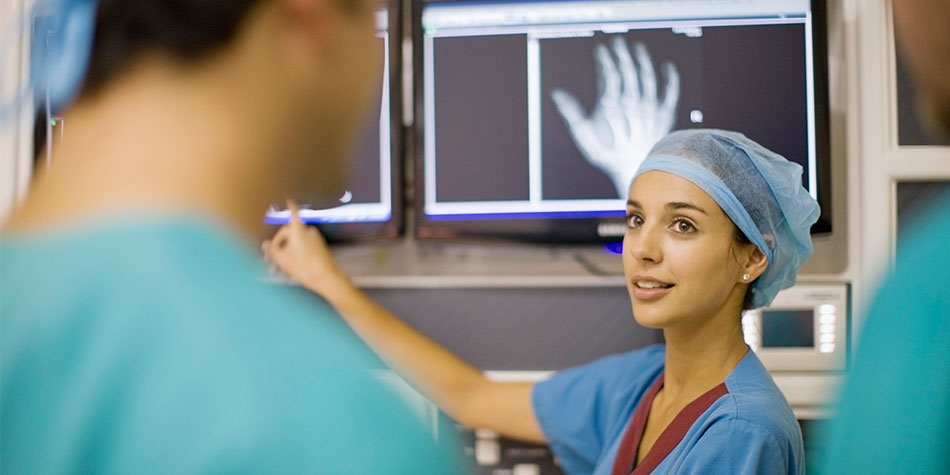 Focused ultrasound is an innovative treatment option for those who suffer from tremors in the arms or hand caused by essential tremor or Parkinson's disease. This non-invasive procedure may be a good option for those who have tried medication but haven't seen an improvement in their symptoms. If tremors affect your ability to complete day-to-day tasks, focused ultrasound may improve your quality of life.
What is focused ultrasound treatment?
Focused ultrasound treatment uses sound waves sent through the skull to target a part of your brain. These sound waves generate heat that can destroy the brain tissue that causes a tremor. Focused ultrasound uses magnetic resonance imaging (MRI) to locate and treat the target area.
This procedure is an attractive and effective option for many patients. With focused ultrasound:
There are no surgical incisions, resulting in faster and more comfortable healing.
There is no significant radiation.
The patient returns home the same day.
Most patients see a noticeable improvement in their tremors within hours of the procedure.
Preparing for focused ultrasound treatment
You'll meet with your care team from Johnston-Willis Hospital in person or via video consult to discuss your tremor and if you are a good fit for focused ultrasound.
Once you are scheduled for treatment, you'll have a CT or MRI scan so the team can get a picture of your brain and the area to treat. You'll receive specific instructions about your medications and how to prepare for your procedure.
Day of treatment
Focused ultrasound treatment is complete in a single day. You'll have a private suite, and a dedicated nurse will be with you the entire time.
Pre-treatment
You will be prepped for your treatment in your private suite.
An IV is placed for medications.
The head is shaved to allow for the best contact between the head and the ultrasound waves.
Numbing medication is applied to the scalp. Next, a frame is attached to the head. This frame remains in place during the procedure to keep your head still and positioned.
A silicone membrane is attached to your head. This allows cool water to flow around your scalp and enables good contact between your scalp and the ultrasound device.
During treatment
The treatment takes place in the MRI suite. A neurosurgeon, nurse, anesthesiologist, and other members of the care team will monitor you closely.
You will remain awake for the procedure so you can communicate with the care team about the treatment.
The team takes several MRI scans to target the area of your brain accurately. Small doses of ultrasound energy are given as a test to confirm the location.
The treatment will start and stop with breaks so the team can test the results. You may be asked to hold something or draw spirals.
Once the neurosurgeon and team have confirmed the target location, the ultrasound energy is increased until the tremor is resolved.
Each treatment takes one minute or less.
You may feel warmth on the scalp, nausea, or dizziness during the treatment.
Another MRI is performed at the end of the treatment. The head frame is removed, and you'll return to your suite for recovery.
After treatment
The precision of focused ultrasound treatment means that patients see the results of their treatment almost immediately.
You'll return home the same day with instructions for follow-up care.
A small number of people experience balance difficulty, tingling in the fingertips or lips, or difficulty with speech or swallowing. These symptoms typically improve within a few days.
Procedure completion
You'll have a follow-up appointment with your neurologist two weeks after your procedure. An MRI will be scheduled approximately four months later. You'll meet with your neurosurgeon to discuss your progress.
While focused ultrasound is highly effective, it is possible the tremor could return within months or years after the procedure.
Learn more
Hear from Matthew Boyce, MD, movement disorder neurologist and medical director of the Deep Brain Stimulation program at Johnston-Willis Hospital, about how focused ultrasound can be a life-changing procedure.
To learn more about essential tremor treatment and focused ultrasound, contact a nurse navigator or call (804) 483-5711. Virtual appointments are available.
Related Categories
HCA Virginia Health System
Related Blog Posts
B.E. F.A.S.T. in identifying the symptoms of a stroke and prevent lasting damage.