Connection
View HCA Virginia's behavioral health centers and make connections in the event of a crisis. View our locations, behavioral health toolkit and partnerships to support your mental wellness needs.
Behavioral health toolkit
If you or a loved one is in crisis, or need more information, call our Access and Response Center (ARC) at (877) 886-7026.
As one of the nation's largest acute care psychiatric providers, HCA Healthcare currently operates services at more than 66 inpatient locations with over 3,000 beds. In Virginia, there is a recognized and rapidly growing need for access to quality behavioral health services. HCA Virginia is committed to meeting this need by increasing our bed capacity and developing cutting edge-programs in addiction recovery and treatment.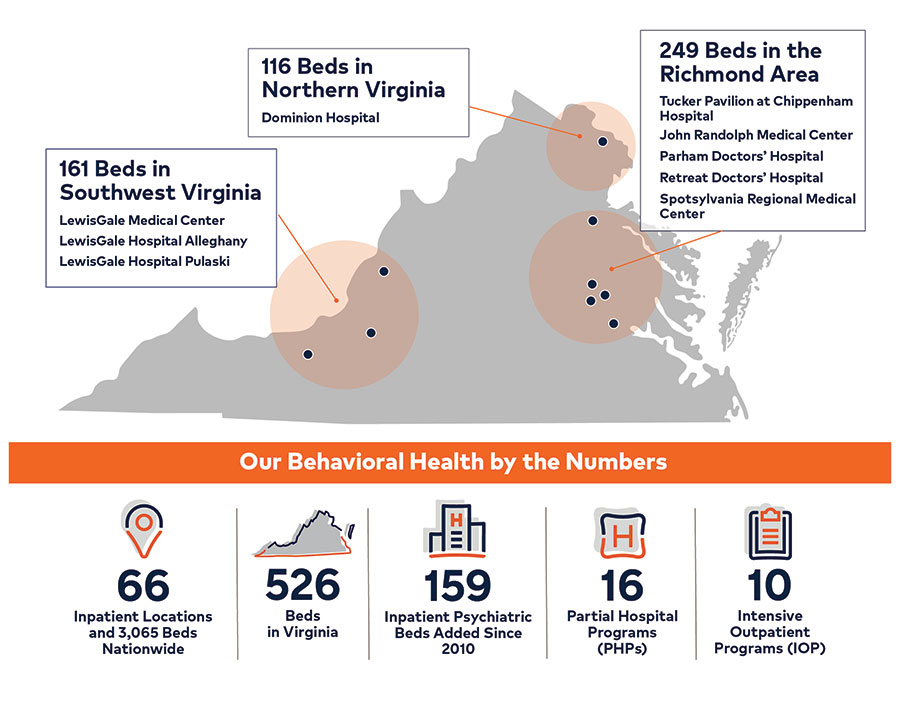 Approximately 50% of lifetime mental health conditions begin by age 14, and 75% begin by age 24. At the same time, the average delay between when symptoms first appear and intervention is approximately 11 years (NAMI, 2020). Early identification and treatment leads to better outcomes. Early treatment may also lessen long-term issues and prevent years of suffering.
One in five adults in the U.S.- or about 47 million people- experience mental illness, yet only half seek treatment. Many people have mental health concerns from time-to-time, but a mental health concern becomes a mental illness when ongoing signs and symptoms cause frequent stress and affect your ability to function. If symptoms are affecting your or your loved one's ability to function, you should consider seeking help.
Most people who experience mental illnesses will improve if they receive appropriate supports, services, and treatment. The first step to getting the right treatment is to see a health care professional and review your symptoms and life circumstances. Treatment options are tailored to each specific person and condition; however, the most common forms of treatment include:
Psychotherapy
Individual
Group
Family/Couples
Provided by trained mental health professionals, such as licensed psychologists, social workers, professional counselors, etc.
Medication
Used to treat the symptoms of many mental disorders such as schizophrenia, depression, bipolar disorder (sometimes called manic-depressive illness), anxiety disorders, and attention deficit-hyperactivity disorder (ADHD).
Can also be used to manage the cravings and relapse associated with certain kinds of addictions.
Sometimes used with other treatments such as psychotherapy or counseling.
Prescribers include psychiatrists, nurse practitioners, PCP, etc.
More intensive levels of care
Intensive Outpatient Programs (typically 3 hours per day)
Partial Hospitalization Programs (typically 6 hours per day)
Inpatient hospitalization (24/7 care)
Mental health conditions we treat
Addiction – chemical dependency and substance (drugs or alcohol) abuse
Aggression – verbal abuse, physical destruction, irritability, impulsiveness, and restlessness
Anger – excessive rage or uncontrollable feelings of anger
Anxiety, including:

Generalized anxiety disorder
Obsessive-compulsive disorder
Panic disorder
Phobias
Post-traumatic stress disorder

Dual diagnosis and co-occurring disorders – the co-existence of mental illness and substance abuse
Eating disorders, including:

Anorexia
Bulimia
Binge-eating disorder

Mood disorders, including:

Bipolar disorder
Depression

Thought disorders
Non-suicidal self-injury – self-mutilation, self-injury, self-harm, or self-abuse that is deliberate repetitive, impulsive, and non-lethal
Sexual abuse and assault – any non-consensual sexual contact between anyone of any age
Social withdrawal, including:

Socio-emotional difficulties (e.g. anxiety, low self-esteem, depressive symptoms, internalizing problems)
Peer difficulties (e.g. rejection, victimization, poor friendship quality)
School difficulties (e.g. poor quality teacher-child relationships, academic difficulties, school anxiety and avoidance)
Our treatment philosophy
HCA Virginia Health System believes that an integrated, individualized, patient-centered, and holistic treatment program, in combination with the appropriate social support, can help individuals and their families gain mastery over their mental health problems. We are committed to the human capacity to change, and to partner in the improvement of their quality of life. We are dedicated to competent, compassionate, and respectful care for all patients and their families. We are committed to providing the best, evidence-based care available to patients and to continue to strive to seek and learn about all avenues of appropriate care.
HVA VA Behavioral Health Unit capabilities
Facility Acute Care Services
Populations Served
Geriatric
Adult
Adolescent
Child

CJW – Tucker Pavilion
7101 Jahnke Road
Richmond, VA 23225

X
X
X
X

Dominion
2960 Sleepy Hollow Rd
Falls Church, VA 22044

X*
X
X
X

John Randolph
411 West Randolph Rd
Hopewell, VA 23660

X

1902 Braeburn Drive
Salem, VA 24153

X
X
X

LewisGale Alleghany
1 ARH Lane
Low Moor, VA 24450

X
X

Parham Doctors
7700 East Parham Rd
23294

X

Retreat Doctors
2621 Grove Avenue
Richmond, VA 23220

X

Spotsylvania
4600 Spotsylvania Pkwy
Fredericksburg, VA 22408

X
*Case by case review
Addiction Recovery and Treatment Services (ARTS) programs
Since the ARTS initiative was launched by Virginia's Medicaid program to help the treatment of substance use disorders across the Commonwealth, HCA Virginia Health System was one of the first to join this e‑ ort. This includes the launch of two detox programs in addition to an ARTS Intensive Outpatient Program and ARTS Partial Hospitalization Program.
ARTS and detox programs at Tucker Pavilion at Chippenham Hospital, LewisGale Medical Center, and LewisGale Hospital Pulaski
ARTS Intensive Outpatient Programs (IOP) at John Randolph Medical Center and LewisGale Medical Center
ARTS Partial Hospitalization Program (PHP) at Parham Doctor's Hospital
ASAM level 3.7 treatment center
As part of the statewide ARTS program, Tucker Pavilion at Chippenham Hospital in Richmond operates an addiction treatment program with a level 3.7 out of 4 designation by the American Society of Addiction Medicine, the highest designation of its kind in the Commonwealth.
Specialty care designed to meet the unique needs of our community
Child and adolescent programs
Specialized child and adolescent inpatient programs at Tucker Pavilion at Chippenham Hospital, Tucker Wellness Center at Chippenham, and Dominion Hospital
Adolescent Intensive Outpatient Program (IOP) and Partial Hospitalization Programs (PHP) at Dominion Hospital and Tucker Wellness Center
Inpatient Adolescent Services at LewisGale Medical Center
LGBTQ programs
Dominion Hospital has been designated as a LGBTQ Healthcare Equality Top Performer by the Human Rights Campaign Foundation
Geriatric program
15-bed unit at LewisGale Hospital Alleghany and 12-bed unit at Tucker Pavilion at Chippenham
Trauma program
10-bed unit at Dominion Hospital
Active duty military program
8-bed unit at John Randolph Medical Center
HCA Healthcare has been successfully growing its behavioral services at facilities near military installations in order to address the needs of military personnel returning from active duty. In recognition of the increasing demand, even more services are being added across the entire company.
Expanding education opportunities
LewisGale Medical Center's accredited behavioral health graduate medical education program is expected to grow by an additional eight residents each year until reaching a full complement of 32.
HCA Virginia's Access and Response Center (ARC)
If you or a loved one is in crisis, or need more information, call our Access and Response Center (ARC) at (877) 886-7026.
Crisis lines
Contact the emergency services number for your local Community Services Board (CSB). On that page, you may search by city, county, or zip code to find the CSB in your area. Once identified, go to their website and locate their crisis/emergency number that is 24/7.
Suicide Prevention Lifeline (800) 273-TALK or (800) SUICIDE.
If you or someone you know is a danger to themselves or others, please call 911