Physical therapy and rehabilitation
Rehabilitation refers to the process of helping a patient recover from a serious injury or illness. Patients often have to regain strength and learn new ways of completing normal, daily activities. Physical therapy, a branch of rehabilitation, focuses on building strength and mobility after disease, injury or surgery.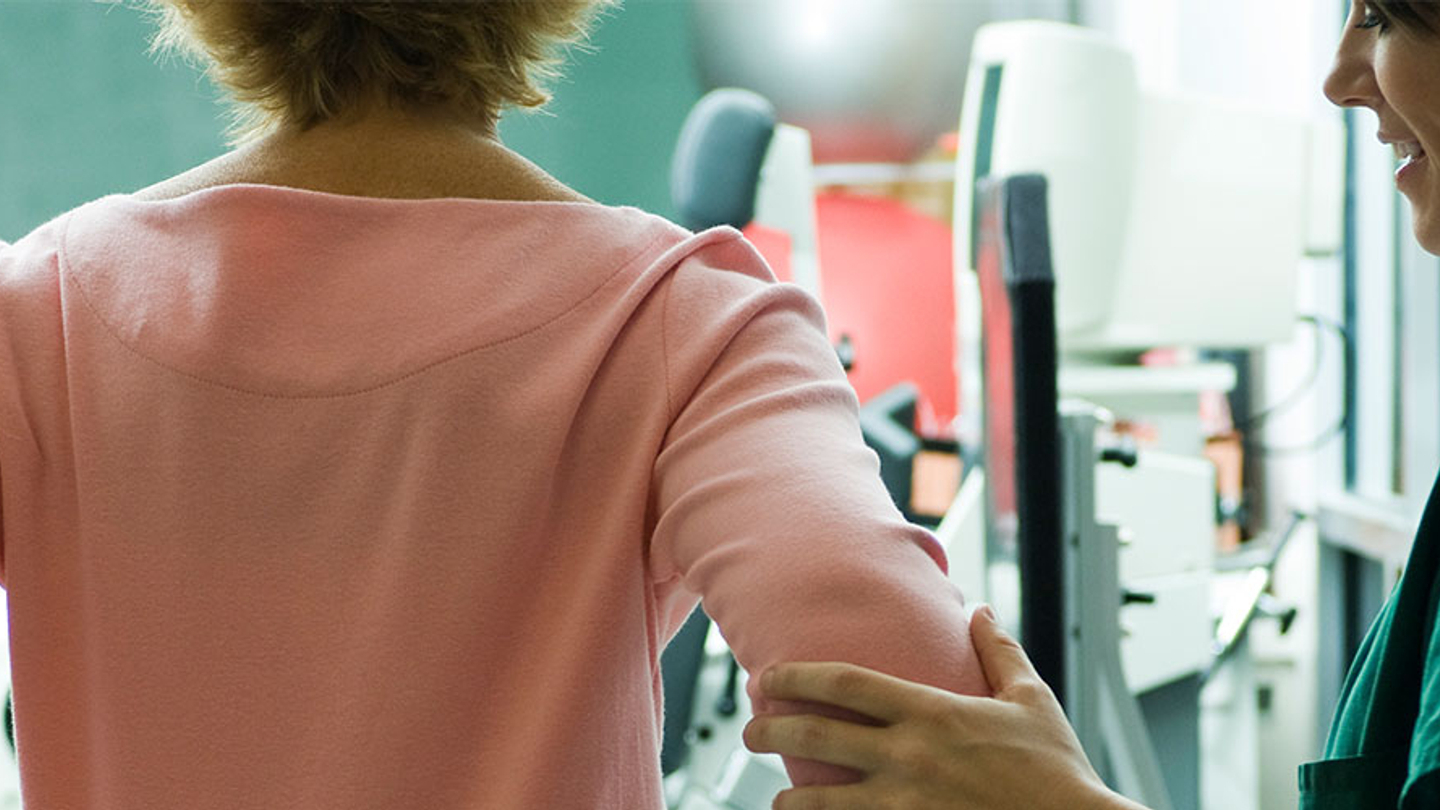 Physical rehabilitation services in Hopewell, Virginia
Our skilled rehabilitation team offers help and support after an injury, surgery or illness.
TriCities Hospital offers personalized rehabilitation programs in the TriCities area, helping to relieve pain, restore function and get you back to your regular routine, no matter your age.
Questions about hip or knee pain?
Learn about your hip or knee health by answering a few questions.
Learn about your hip or knee health by answering a few questions.
Our physical rehabilitation services
We offer comprehensive inpatient and outpatient rehabilitation services to personalize our care to your needs. 
---
Benefits of our physical rehabilitation centers
Our rehabilitation program features many benefits that reduce your stress and make your experience more enjoyable:
Advanced care with a personal touch — A hospital-based program, we are able to provide individualized therapy and exercise programs backed by the services of a full-service medical center.
Certified therapists working for you — Your care is provided by highly skilled and licensed physical, occupational and speech therapists. Our therapists are certified in a variety of rehabilitation specialties, including lymphedema therapy and pulmonary rehabilitation.
Individualized treatment plans — We offer dynamic, personalized and one-on-one evaluations, training, rehabilitation and performance enhancement programs.
---
Physical therapy and rehabilitation treatments
We work to personalize our programs to your health needs. Our therapy and rehabilitation services include:
Adaptive equipment training
Assistive technology
Lymphedema therapy
Neurological rehabilitation
Occupational therapy
Orthotic devices
Orthopedic rehabilitation
Pain management
Pediatric rehabilitation
Physical therapy
Pulmonary rehabilitation
Speech and language therapy
Spine rehabilitation
If you need help deciding whether to get care for your back or neck pain, take our back and neck pain assessment.
Office hours for our outpatient rehabilitation services
We offer convenient hours for outpatient physical therapy and rehabilitation to accommodate your schedule.
Our outpatient hours
Please note that our outpatient therapy requires a physician referral. If you need help finding a doctor, call our referral line at (804) 320-3627.
Our hours of operation are:
Monday through Friday
6:30am to 7:30pm
---
The Healthy Living Blog
Read our blogs to learn about our services and how others benefitted from rehabilitation care.