For patients at LewisGale Hospital Alleghany
Patients coming to LewisGale Hospital Alleghany can get information about our amenities, healthcare team, billing and insurance resources and registration procedures.
Information and resources for our patients
At LewisGale Hospital Alleghany Hospital, your comfort and healing is our first priority. For that reason, we offer programs and services designed to make your hospital experience exceptional.
Useful tools for patients
Send surgery updates to your loved ones
Although nothing takes the place of face-to-face communication with your doctors, we're thankful for technology that can help when they're all focused in the operating room. Using your patient account information, loved ones can get text updates about your surgery using our Informer tool.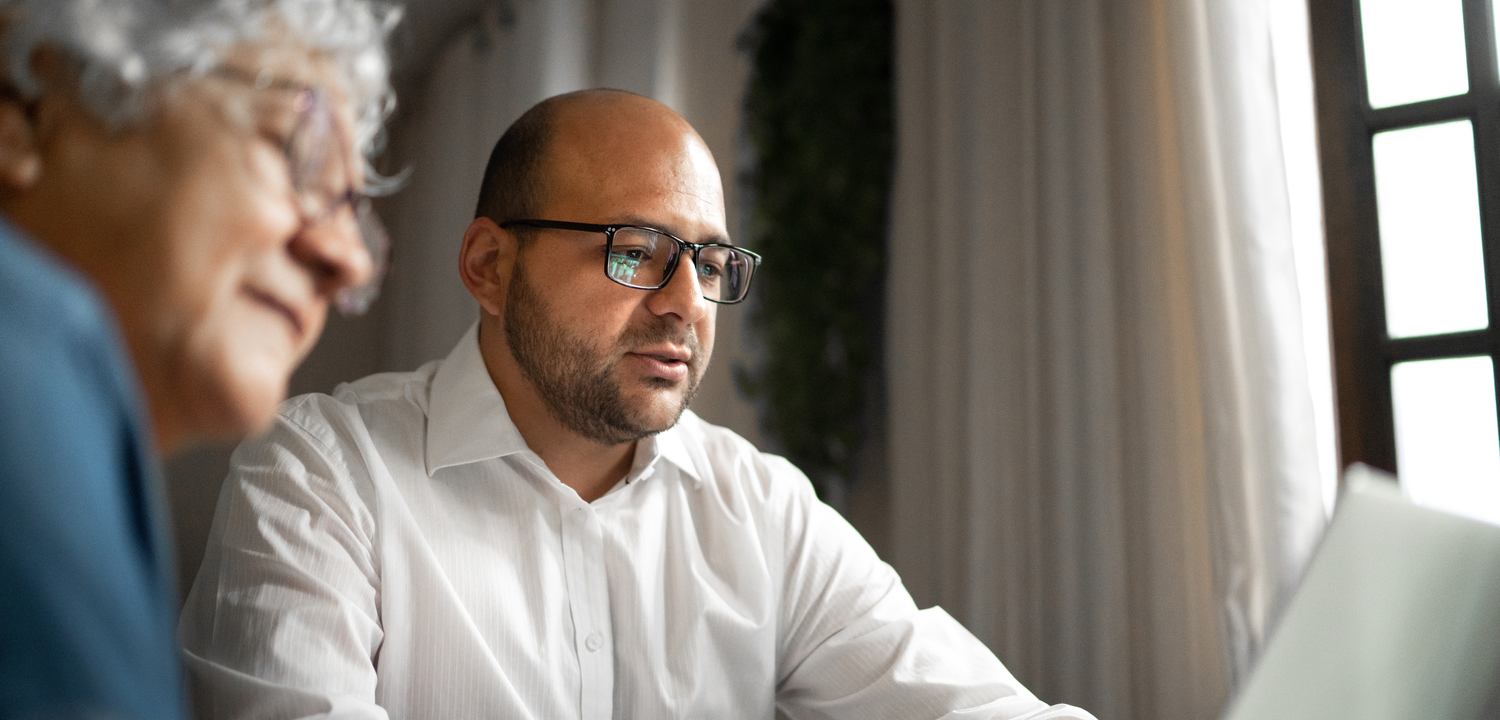 How we improve your hospital stay
To help pave the way for a smooth and pleasant visit, we provide information about the services you can expect, some of our protocols and how to prepare.
Hospital amenities
Some of the amenities you'll enjoy at LewisGale Hospital Alleghany include:
Comfortable accommodations with cable television and bedside telephones
Delicious and nutritious food service, including made-to-order, in-room dining for patients, a cafeteria that welcomes visitors, around-the-clock vending and dietitian counseling
Cottage Window Gift Shop with assorted gifts and conveniences, including books, magazines, personal care items, stamps, cards, snacks, gifts, toys and flowers
Convenient and free parking
Smoke-free policy to support a healthy environment
Safety and security measures for your well-being and the care of your valuables during your stay
Additional services we offer
You'll find many additional resources to ease your stay, including:
Special waiting areas for families of patients in surgery, intensive, progressive and emergency care
Facility signs and building directories to help you find your way
Counseling and chaplain services, pastoral care, nondenominational chapel
Postal mail, printouts of email messages, newspapers and flowers delivered to patient rooms
ATM banking services
Notary public service
Wi-Fi access
Interpreters for many languages, including sign language
Assistive devices for sensory-impaired persons
Nearby hotels and restaurants for visitors and families; potential overnight accommodation within the hospital
Visiting hours
Visiting hours are specific to each hospital unit, so you or your potential guests should contact the unit nurse for details. We maintain quiet hours from 2:00pm to 3:00pm and 10:00pm to 6:00am daily to encourage patient healing. If you will be having surgery, we may be able to make flexible arrangements for families visiting you on the day of your procedure.
Preparing to return home
When your doctor decides you're ready to leave the hospital, you'll receive a discharge order with instructions for follow-up care, such as medication, dietary requirements or recommendations and your next scheduled appointment with your doctor. You'll also stop by the hospital cashier to settle your account. Then you'll be escorted by a hospital representative to your waiting ride home. Depending on your needs, you may want to arrange with a family member or friend to help you return home.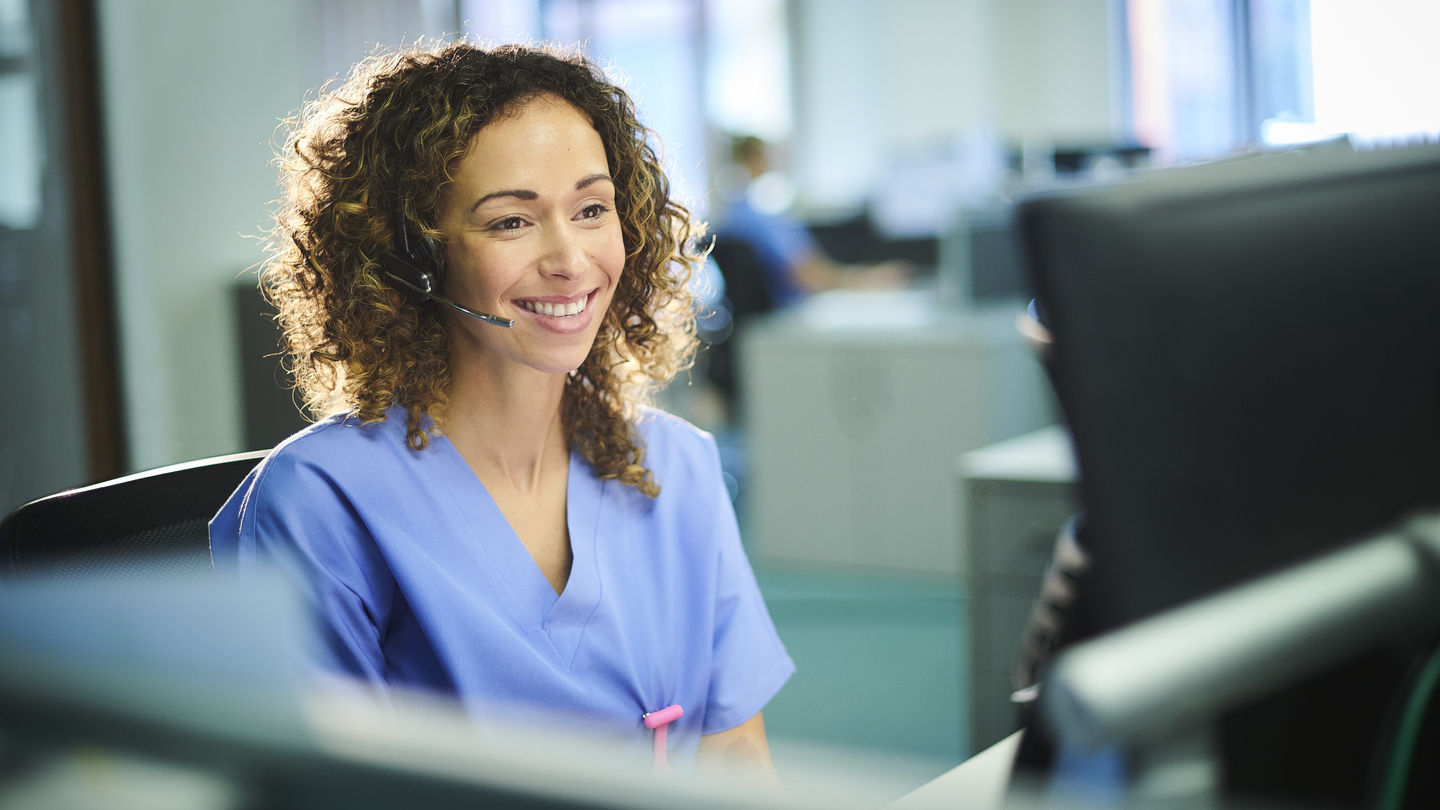 Talk directly to a nurse, any time
Consult-A-Nurse is a free service that provides you with physician referrals and health information 24/7. Our RNs and referral specialists can help you find a doctor, answer your healthcare questions and register for classes and events.
More resources for our patients
Our goal is to provide you with quick and easy access to all the information you need to stay healthy and connected with your healthcare professionals.

Patient financial resources
We want to make it as easy as possible for you to access the information you need regarding payment and health insurance policies. We provide in-depth resources regarding our accepted health insurance plans, as well as a payment estimator.
Learn more about our patient financial resources
Behavioral health toolkit
There is no shame or fear in needing mental health care, and we make it easier than ever to find providers and programs near you, learn more about behavioral health and how to get support if you or a loved one is in need.
Access our behavioral health toolkit
Medical team roles
Many medical professionals play a part in your care while you're hospitalized, including:
Anesthesiologists — specialize as physicians who provide anesthesia to safely manage consciousness and pain for patients during surgical procedures
Intensivists — physicians who care for critically ill patients being treated in a hospital intensive care unit
Medical technologists and technicians — provide technical assistance to members of the hospital team
Medical therapists (speech, occupational, physical, respiratory) — provide therapeutic treatment to patients in a variety of specialties to support healing and health
Nurse practitioners — advanced-practice nurses with the additional education and training needed to provide diagnoses, treatments and medication prescriptions
Pathologists — physicians who examine the body's cells and tissues at the microscopic level to develop a precise diagnosis of disease
Pharmacists — specialized healthcare professionals who focus on the safe and effective use of medications
Phlebotomists — medical technologists who collect samples for lab testing
Physician assistants — practice medicine under the direction of physicians and surgeons; formally trained to examine patients, diagnose injuries and illnesses and provide treatment
Physicians — examine patients, take medical history, prescribe medications and order, perform and interpret diagnostic tests
Radiologists — physicians who use a variety of advanced imaging technologies to diagnose and/or treat diseases
Registered nurses (RNs) — provide and coordinate patient care, offer guidance and support to patients and families and educate you about your condition
Surgeons — operate on patients to treat injuries and diseases
Hospitalist care
Hospitalists are board-certified internal medicine physicians who specialize in the care of hospitalized patients. Your primary care physician continues to play an important role in caring for you while you're hospitalized and receives regular updates from the medical team, primarily the hospitalist, regarding your plan of care and your progress.
Even if you're admitted to the hospital through the emergency room, a hospitalist notifies your physician, confers about your condition and status, and coordinates care with appropriate specialists. When you're ready to go home, our medical team helps you make the transition back to your primary care physician, providing detailed reports from your visit, including lab results and diagnostic images, and recommendations for follow-up care to ensure you make a full recovery.
Virginia pricing transparency
In the commonwealth of Virginia, hospitals must provide easy access to information about insurance carriers and protection against extra out-of-network charges.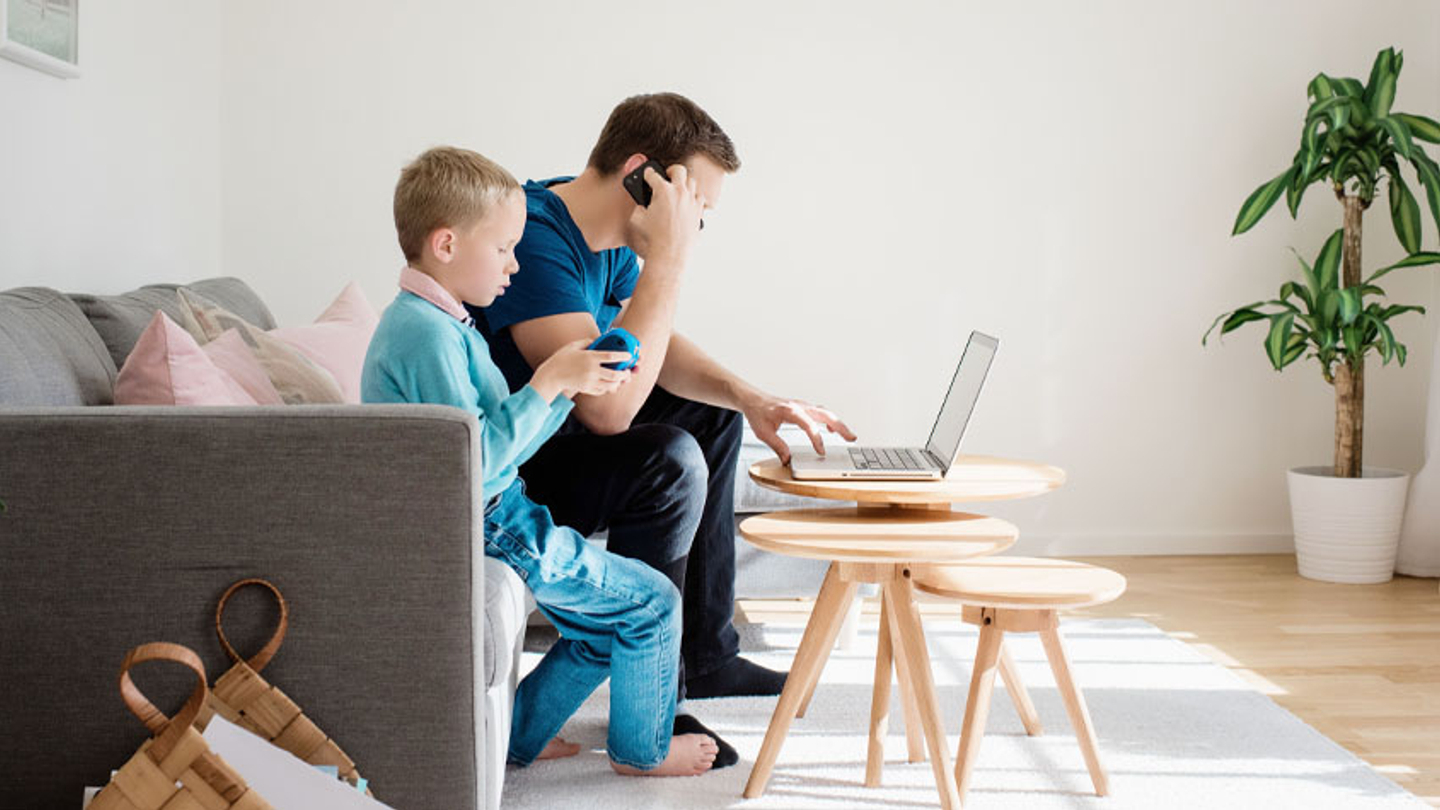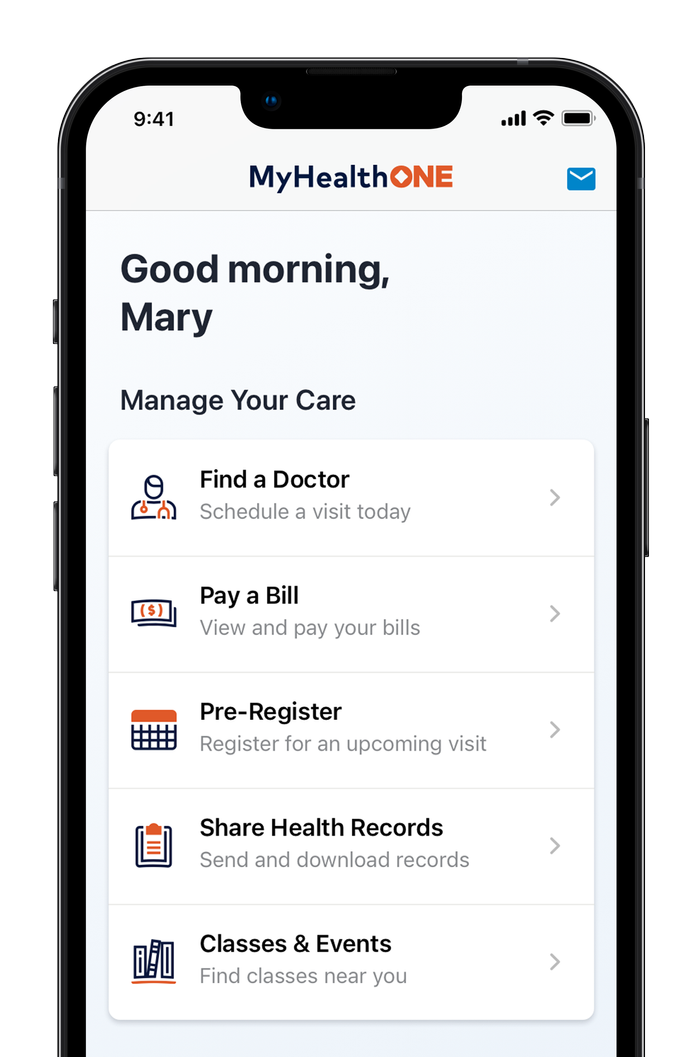 MyHealthONE allows you to manage all parts of your healthcare easily and securely
View health records — lab results, physician notes, imaging reports and more
View your post-visit summary
Schedule a follow-up appointment
Share your health records with a physician or caregiver
And more
Create an account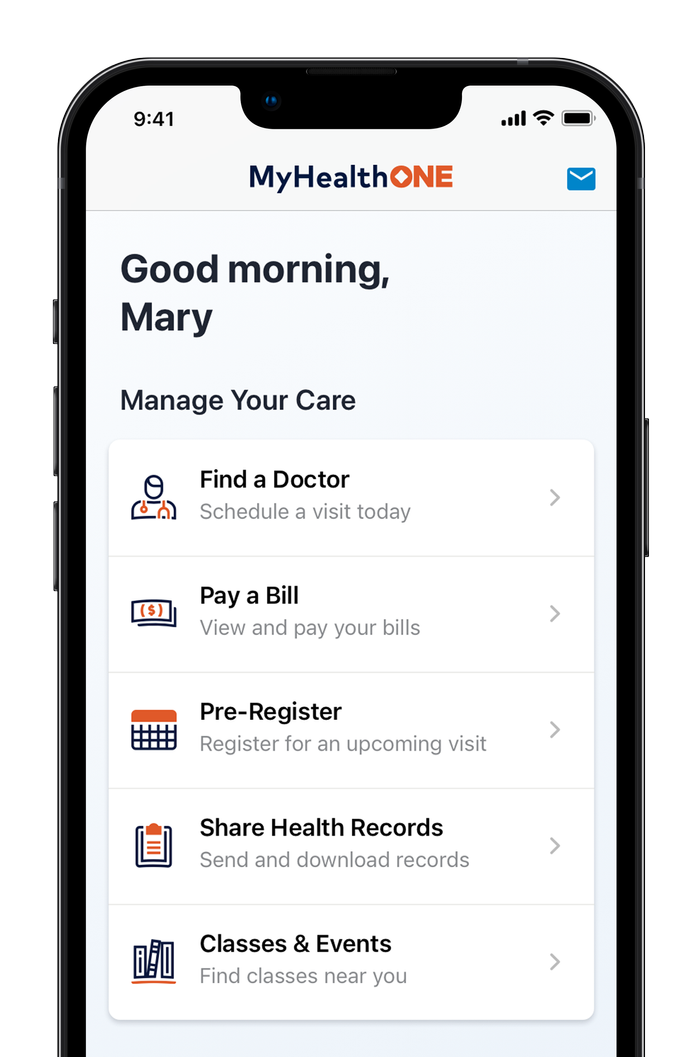 ---
Download the MyHealthOne app on the App Store® or Google Play