Spine care
Spine specialists, who can be orthopedists or neurosurgeons, diagnose and treat injuries, trauma and diseases related to the spine. Spine care doctors also offer care for herniated disk, nerve damage, sciatica, neck pain or chronic back pain.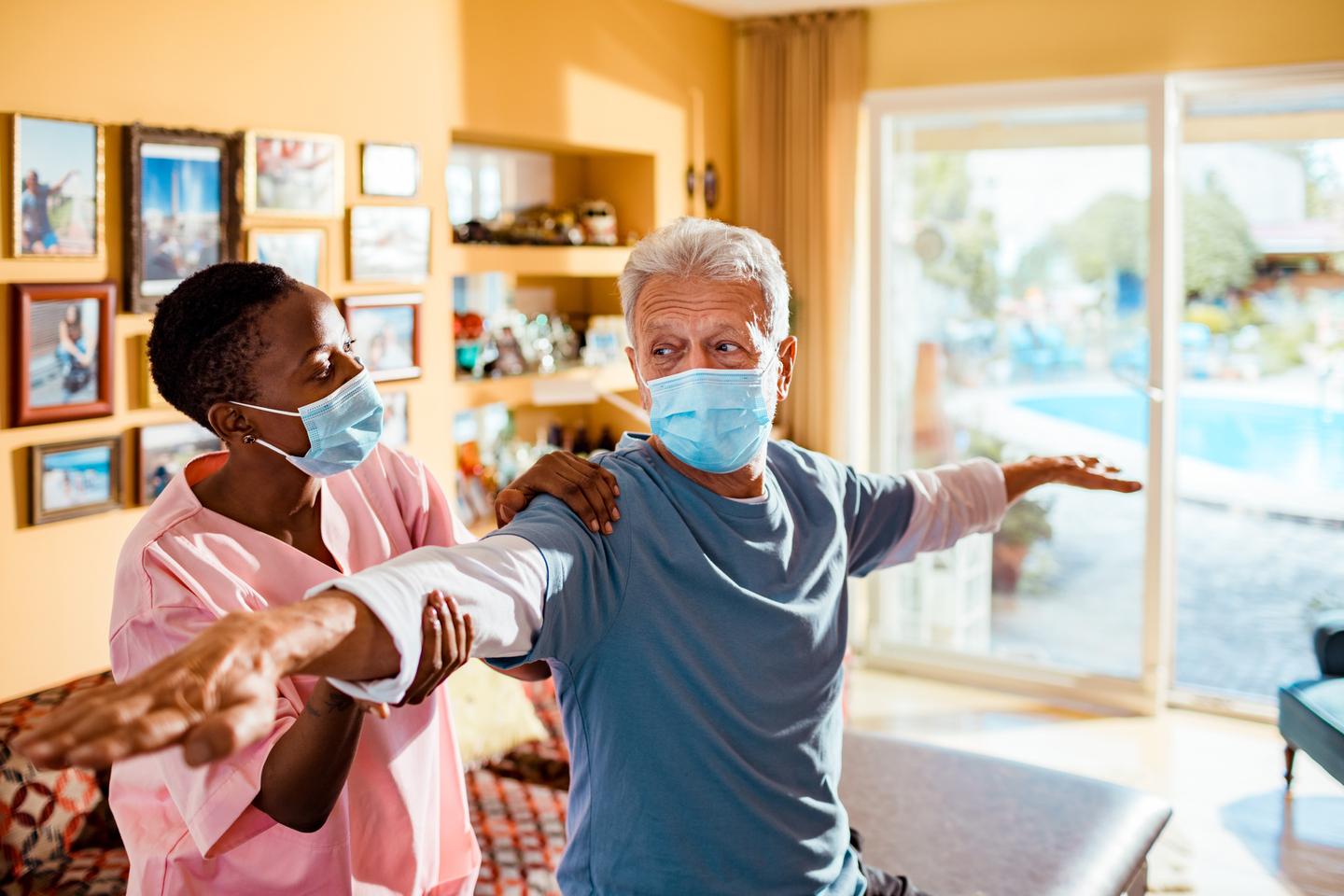 Spine specialists in Reston, Virginia
Chronic back pain can affect your daily life, but our spine specialists are here to help you.
To ensure you get the care that is right for you, our experienced spine team at Reston Hospital Center uses advanced diagnostics and treatments to tailor a treatment plan to your needs.
Do something about your back and neck pain
Steps can be taken to live with less back and neck pain. Take our online assessment to understand what you can do about it.
Steps can be taken to live with less back and neck pain. Take our online assessment to understand what you can do about it.
Spine services we offer
Our spine care team includes specialists in bone and joint, neurological care and pain management, as well as physiatrists, anesthesiologists and family practitioners. This group works together to develop a personalized treatment plan for you. We also collaborate with nurse navigators and case managers to make sure you have support every step of the way.
Our spine program
We are proud to offer an array of nationally-recognized surgical services, including one of the region's most comprehensive robot-assisted surgery programs.
Spine navigator
Our spine program navigator works in close contact with both you and your spine surgeons, helping to maintain communication between you, your nurses and other medical staff.
Our nurse navigator is instrumental in helping educate you on what to expect before, during and after surgery. They are also responsible for tracking quality and surgical performance data and partnering with our care team to implement continuous process improvement initiatives. This allows us to offer you the best care possible.
Center for Scoliosis and Spinal Deformities
The Center for Scoliosis and Spinal Deformities at our hospital specializes in treating complex scoliosis and spinal deformity conditions. Our team approach provides seamlessly coordinated care by top specialists and support services for patients with lifelong or evolving deformities. Bringing together nationally recognized doctors, innovative technology and breakthrough treatment options, we offer accessible, individualized care in one location.
Advanced imaging tools
Effective treatment starts with a precise diagnosis. That's why we use advanced imaging tools to identify your pain and develop the most appropriate treatment plan.
Some of our spine imaging tools include:
3 Tesla magnetic resonance imaging (3T MRI)
Open MRI
Large-opening computerized tomography (CT) scanner
Robotic spine surgery
Our renowned spine surgeons are leaders in advanced spinal surgery and are always working to improve the field. In fact, we were the first hospital in Virginia to use a state-of-the-art guidance system for minimally invasive robotic spine surgery. Our hospital also offers a visiting clinician program where our spine surgeons teach best practices and new techniques to surgeons from around the world.
Minimally invasive and robotic surgeries use smaller incisions and cause less trauma to muscles and tissues. This process leads to shorter operations, less pain and a faster recovery. Many patients go home within a day or two.
To learn what to expect after spine surgery, you can watch this spine surgery orientation video.
Augmented reality (AR) guided surgery
We now offer a groundbreaking augmented reality (AR) guidance system that allows spine surgeons to "see through" a patient's anatomy as if they have "X-ray vision." The system is the first AR guidance system to be used in surgery and is currently approved for use in open and minimally invasive spine implant procedures.
Similar to a real-time GPS, this "see-through" surgery lets surgeons know exactly where to place implants in a patient's unique anatomy, and is bringing a new standard of personalization and care to the operating room. This advanced technology allows surgeons to maintain their focus directly on the patient, rather than on a distant screen displaying the patient's anatomy.
Spine rehabilitation
Our on-site physical therapy and rehabilitation facility offers inpatient and outpatient rehabilitation. Here, our experienced rehab teams create a therapy plan tailored to your specific condition.
Your doctor may prescribe spine rehab as treatment for back pain before suggesting surgery. They may also prescribe it as therapy after spine surgery. If you have spine surgery, we will begin rehabilitation the same day as surgery or as soon as you are ready to promote a healthy recovery.
Spine Surgery Program Orientation
Watch the spine surgery program orientation video to learn more about spinal surgery.
Watch the spine surgery program orientation video to learn more about spinal surgery.
For out-of-town patients and family members
For family members of patients traveling from out-of-town or internationally, we have developed a travel concierge guide to help alleviate any additional stresses or concerns during you visit.
The Healthy Living Blog
Read our blogs to learn about spine care and ways you can find pain relief.