Neurological care
Neurological care is the practice of medicine that focuses on the treatment, function and diagnosis of diseases relating to the nerves and nervous system. Neurologists and neurosurgeons treat disorders that affect the brain or spinal cord.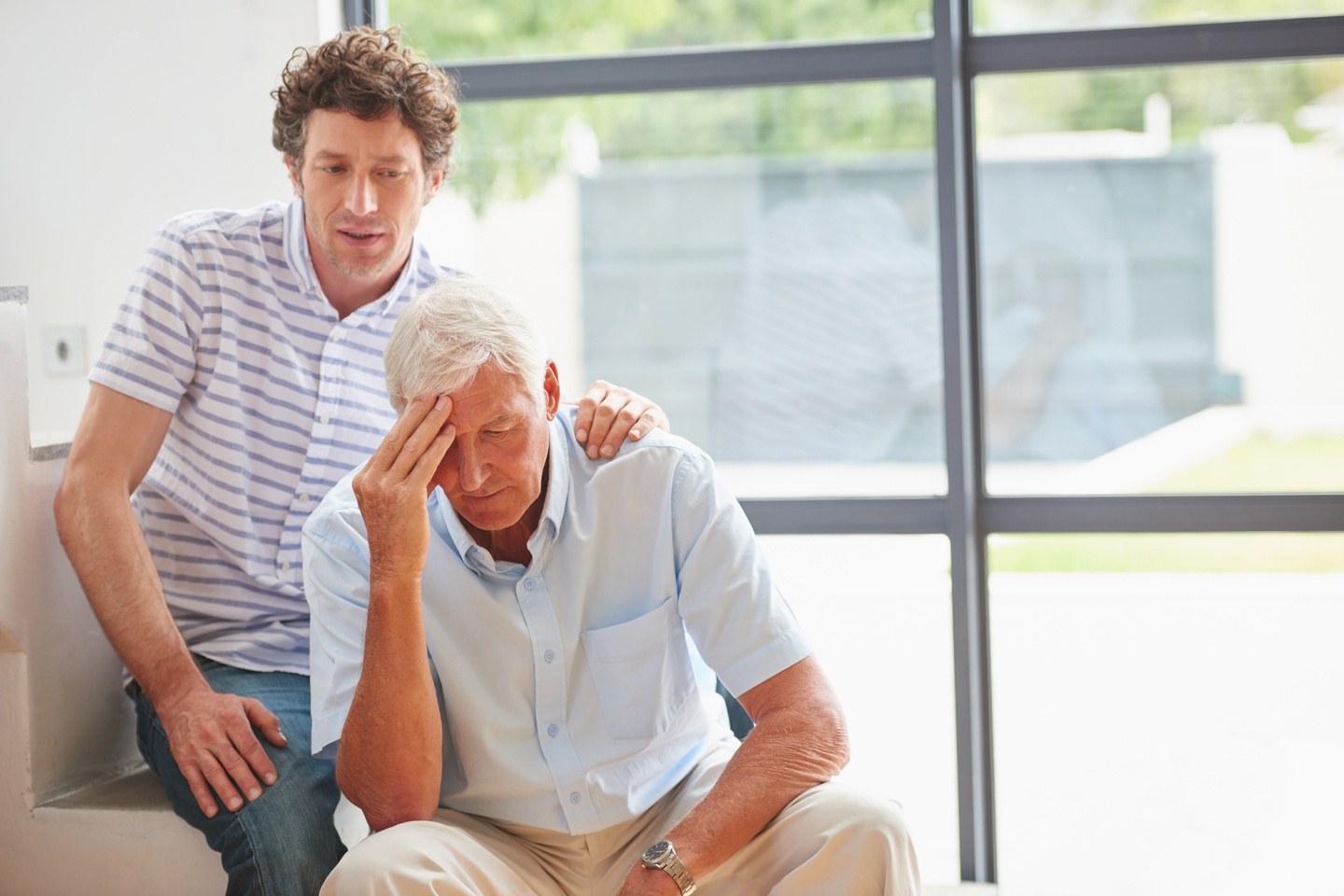 Neurological specialists in Reston, Virginia
We're here to help treat brain and nervous system conditions.
Our dedicated neurologists and neurosurgeons in Reston, Virginia, have experience diagnosing and treating many neurological conditions. At Reston Hospital Center, we provide you with high-quality care to help relieve your symptoms and get you back to your life.
Are you at risk of a stroke?
Identifying health factors can help prepare you for urgent medical conditions. Use our free online assessment to better understand your stroke risk.
Identifying health factors can help prepare you for urgent medical conditions. Use our free online assessment to better understand your stroke risk.
Neurological conditions we treat
Our neurology team has extensive experience treating brain and nervous system conditions, including:
Acoustic neuromas
Back pain
Brain cancer
Degenerative disc disease
Epilepsy
Guillain-Barré syndrome
Head injuries and concussions
Herniated discs
Intracranial hemorrhages
Myasthenia gravis
Peripheral nerve conditions
Pituitary tumors
Spine curvatures
Spine disorders
Strokes
Trigeminal neuralgia
Our neurology treatments and services
Our dedicated neurologists provide care for conditions affecting the brain and nervous system. Our goal is to relieve pain and help restore mobility.
Comprehensive neurological care team
Members of our multispecialty neurosciences team collaborate to provide you with high-quality neurological care. They meet weekly to discuss your unique situation and design a treatment program that meets your needs.
Our team includes:
Critical care intensivists
Hospitalists
Neurologists
Neuroradiologists
Neurosurgeons
Rehabilitation therapists
Diagnosing a neurological condition
Our neurologists have access to leading-edge services to ensure an accurate diagnosis of brain disorders and neurological conditions. Some of the most common neurological imaging procedures we offer include computerized tomography (CT) scans, electroencephalograms (EEG) and ultrasounds. We also offer neurological exams and brain scans, such as magnetic resonance imaging (MRI) scans.
Brain cancer and tumor care
Our neurosurgeons have extensive experience treating all types of brain tumors, including malignant (cancerous) and benign (noncancerous) tumors, as well as rare, skull-based lesions. In collaboration with our oncology team, we work together to provide you high-quality cancer care — from diagnosis through treatment and beyond.
Award-winning stroke care
We have been designated by The Joint Commission as an Accredited Primary Stroke Center. We are also a recipient of the American Heart Association/American Stroke Association's Get With The Guidelines — Stroke Gold Plus Quality Achievement Award. These designations signify our hospital's commitment to excellent, comprehensive stroke care.
Stroke symptoms
When you are experiencing a stroke, every second counts. We are proud to deliver stroke care in a prompt and compassionate manner. Our experienced care teams provide the fast, effective stroke treatment you need to prevent brain damage and safeguard your quality of life.
If you think someone is experiencing a stroke, call 911 immediately. Fast stroke treatment is critical to save lives.
Stroke symptoms include sudden:
Confusion
Dizziness
Numbness or weakness of the face, arm or leg, especially on one side of the body
Trouble seeing in one or both eyes
Trouble speaking or understanding
Trouble walking or loss of balance or coordination
Severe headache with no known cause
If you think someone you know is having a stroke, remember to act FAST — an acronym that stands for:
Face — Ask the person to smile. Does one side of the face droop?
Arms — Ask the person to raise both arms. Does one arm drift downward?
Speech — Ask the person to repeat a simple phrase. Is their speech slurred or strange?
Time — If you observe any of these signs, even if they've gone away, call 911 immediately. Take note of what time the symptoms appeared.
Code neuro
When we are notified of a potential stroke, our stroke care team calls a "code neuro." This is our well-established and highly integrated process — which also links us to area first responders — for quick response, diagnosis and treatment of stroke.
Calling a code neuro alerts us to the impending arrival of a potential stroke patient and gives us time to prepare. Within 30 minutes of calling a code neuro, our neurological care team, medical laboratory and imaging services teams are on-site.
Neurosurgery and neurological treatments
We are proud to offer leading-edge neurological treatments, including:
Glycerol injection — Minimally invasive glycerol injections are an outpatient treatment option for trigeminal neuralgia.
Kyphoplasty/vertebroplasty — These treatments are used in spine care for fractures and herniated discs.
Microvascular decompression — Also known as a craniotomy, microvascular decompression is an option to open the skull with a small incision behind the ear to treat trigeminal neuralgia.
Radiation therapy — Typically used for cancer treatment, radiation therapy uses ionizing radiation to kill or control malignant (cancerous) cells.
Stereotactic radiosurgery — Stereotactic radiosurgery is a minimally invasive procedure that directs radiation at specific parts of the brain to treat a variety of brain disorders and tumors.
Tumor embolization — Tumor embolization cuts off blood flow to a tumor before surgery, which means shorter surgical procedures, less blood loss and reduced need for transfusion.
Advanced neurosurgical capabilities
In addition to a multidisciplinary team, we also provide you access to a hospital with advanced neurosurgical capabilities. Our hospital features a neurointerventional suite, a specialized operating area with a multi-directional imaging system.
Our advanced angiography X-ray imaging system allows the physician to visualize extremely detailed, real-time images of your head, neck and spinal blood vessels. This enables us to perform more effective neurovascular procedures and stroke treatments requiring high precision levels.
Bringing this technology and treatment option to our community expedites diagnosis and treatment during an emergency and allows you to receive advanced treatment close to home.
Interventional neuroradiology
Interventional neuroradiology uses minimally invasive imaging technologies and procedures to diagnose diseases of the head, neck and spine as well as brain tumors.
The fragile vessels in these areas — some barely the thickness of a human hair — coil and curve extensively. Therefore, this requires extreme precision to avoid damage during medical procedures.
Interventional neuroradiology allows us to perform procedures efficiently and effectively, directly addressing the source of the condition.
Robot-assisted brain surgery
We are proud to offer advanced robot-assisted brain surgery. Using this technology, our neurosurgeons have a greater view of the surgical site, optimal precision and improved surgical workflow. This allows for a more efficient and effective surgical procedure, with a shortened recovery time for you.
Neurological and stroke rehabilitation
At our hospital, care for neurological conditions goes beyond diagnosis and treatment. We offer a neurological rehabilitation program that helps you regain motor function after experiencing a neurological event or surgery.
Our neurological rehabilitation specialists will work one-on-one with you to help regain the function and skills of the affected areas of your body. We customize a plan based on your needs and may use a combination of physical, occupational and speech/swallowing therapies to help you recover.
Neuro intervention program — bi-plane suite
Neuroscience leaders and experts share details about Reston Hospital Center's Neuro Intervention Program, bi-plane suite and advanced stroke care.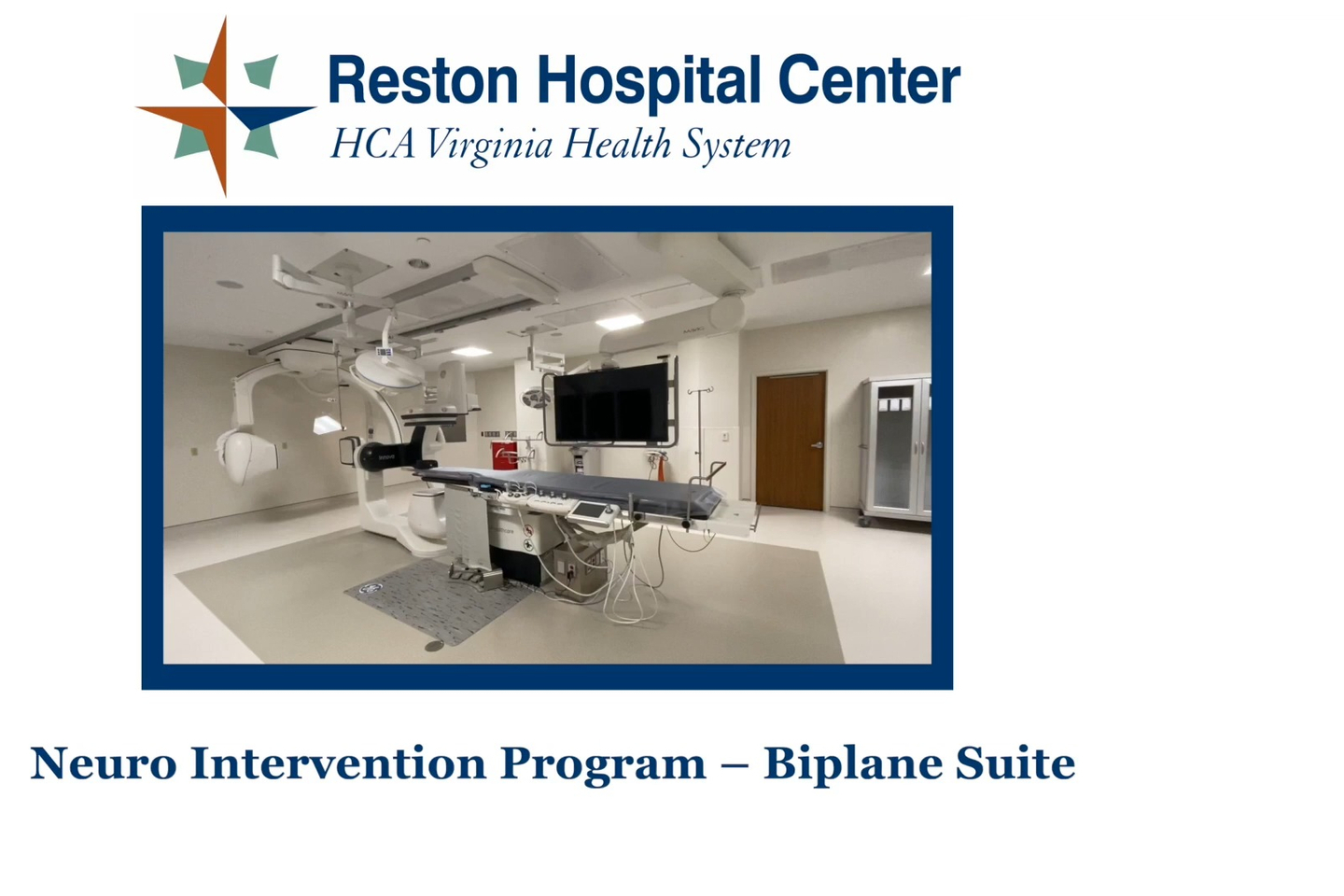 The Healthy Living Blog
Read our blogs to learn about patients' experiences with our neurological care team.
Looking for a location?
We also offer quality care at these other locations in our extended network.